USE PROMO CODE "NVP" WHEN YOU PURCHASE TICKETS AT TRUSTARTS.ORG OR AT THE BOX OFFICE AND A PORTION OF TICKET SALES WILL BENEFIT NEW VOICES.

Join New Voices Pittsburgh for the You Wouldn't Expect play* in partnership with demaskus Theater Collective during Women of Color HERStory Month® 2016, Saturday, March 26, 2016, at the August Wilson Center for African American Culture. There will be two performances that day 2 pm and 8 pm, as we spotlight the true events of the 8,000 women forcibly sterilized under a North Carolina Eugenics Program--this is their story.
Between 1933 and 1973, North Carolina sterilized 8,000 people, as part of a eugenics program that sterilized 60,000 women nationwide. "African-American women were disproportionately targeted" says playwright Marilynn Anselmi whose new stage play is based upon true events surrounding the North Carolina Eugenics Program (c. 1946 – 1968).
YOU WOULDN'T EXPECT focuses on a group of characters affected by the sterilization program that changed so many lives and, in turn, prevented others. The story is an intense drama that showcases the relationship between two women - Mary Tom Walker (the Deputy Coordinator at the local Eugenics Office) and Temperence Hedgepeth (her new assistant coordinator) are thrown together by the powers that be and are forced to work with each other despite their obvious differences in the middle of a divided South. Join demaskus for the second performance of its inaugural season and the world premiere of this play.

This play was a semi-finalist at the 2013 Eugene O'Neill Playwrights Conference and presented during the 2013 National Black Theatre Festival, Readers' Theatre of New Works in Winston/Salem, NC.

*Mature Content

This production is made possible through the generous support of The Heinz Endowments and The Pittsburgh Foundation.
TICKETS:
$100 - WOCHM® 2016 All-Access Pass
$20 - General Admission

You can purchase tickets to the play here: You Wouldn't Expect: Performances!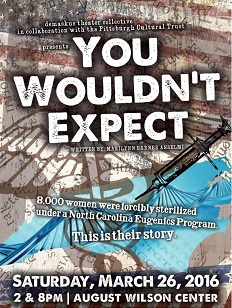 SPECIAL EVENT: Dinner & Panel Discussion with demaskus Theater Collective and New Voices Pittsburgh's Women of Color HERStory Month® 2016, 5:30 PM - $10. (Ticket to the dinner and panel discussion does not include admission to the play).
In addition to the play, audience members are invited to dine and discuss the reproductive and social justice implications of the United States eugenics program before the closing 8 PM showing of You Wouldn't Expect it.
For more info about or to purchase tickets to attend the special event, visit: You Wouldn't Expect: Dinner + Discussion.
WHEN
March 26, 2016 at 8:00pm - 10pm
CONTACT
demaskus Theater Collective · · 412.456.6666
60 RSVPS
See who else is RSVPing:
B.D. Lynch
Trish Dykes
Chris Gibson
Josh Martin
Aaron J. Brown
Megan Martin Culig
Christine McCray Bethea
Pamela Collier
MaryAnn Jones
Raynel Grayson
Courtney N. Kardashien
Bj Harris
Hannah Perry
Carmen M. Smith
Louis Markowitz
Iam Karena
Viviana Altieri Mondo Italiano
Briana Monet Walker
L'Oréal Snell
Holly Showalter
Brandi Fisher
Charles E Timbers Jr
Kelvin Kamau
Nicolas Hebert
Karen Hannon
Mihaela Petrescu
Lisa Hindmarsh
Janet Jourdan
Lacey Davis
Mollie Rebecca
Sorry, this event is sold out.