USE PROMO CODE "NVP" WHEN YOU PURCHASE TICKETS AT TRUSTARTS.ORG OR AT THE BOX OFFICE AND A PORTION OF TICKET SALES WILL BENEFIT NEW VOICES.

Join New Voices Pittsburgh for the special event You Wouldn't Expect dinner and discussion* in partnership with demaskus Theater Collective during Women of Color HERStory Month® 2016, Saturday, March 26, 2016, 5:30 P, at the August Wilson Center for African American Culture.
In between performances, audience members are invited to dine and discuss the reproductive and social justice implications of the United States eugenics program with New Voices and demaskus Theater Collective!
TICKETS:
$100 - WOCHM® 2016 All-Access Pass
$10 - Dinner and panel discussion only!
For more info about or to purchase tickets to attend the special event, visit: You Wouldn't Expect: Dinner + Discussion.
Paris Hatcher is a Black, queer feminist from Greensboro, North Carolina. With over 10 years of experience on the local, national, and international level, Paris has been working with leading organizations to amplify the leadership of marginalized communities, win public policy campaigns, and advance reproductive and sexual health and justice, gender justice and queer liberation. Notably, she co-founded and was the Executive Director of SPARK Reproductive Justice NOW, one of the leading reproductive health and justice organizations in the Southeast. She completed her Masters of Arts in Africana Women's Studies at Clark Atlanta University with a research focus on Caribbean women's activism and social movements. Paris was a Board member of Southerners On New Ground (2008-2014); a founding Board member for the Groundswell Fund(2007-2012). She recently worked for Race Forward, the Center for Racial Justice Innovation as the Network Strategies Manager. Currently she is Principal at Rhombus Consulting Group, rabble rouser extraordinaire at Black Feminist Future, and co-founder of Black Freedom Outfitters.

Please visit our full WOCHM® Calendar to RSVP for the You Wouldn't Expect play, 
"Between 1933 and 1973, North Carolina sterilized 8,000 people, as part of a eugenics program that sterilized 60,000 women nationwide. "African-American women were disproportionately targeted" says playwright Marilynn Anselmi whose new stage play is based upon true events surrounding the North Carolina Eugenics Program (c. 1946 – 1968).

YOU WOULDN'T EXPECT focuses on a group of characters affected by the sterilization program that changed so many lives and, in turn, prevented others. The story is an intense drama that showcases the relationship between two women - Mary Tom Walker (the Deputy Coordinator at the local Eugenics Office) and Temperence Hedgepeth (her new assistant coordinator) are thrown together by the powers that be and are forced to work with each other despite their obvious differences in the middle of a divided South. Join demaskus for the second performance of its inaugural season and the world premiere of this play.

This play was a semi-finalist at the 2013 Eugene O'Neill Playwrights Conference and presented during the 2013 National Black Theatre Festival, Readers' Theatre of New Works in Winston/Salem, NC.

*Mature Content

This production is made possible through the generous support of The Heinz Endowments and The Pittsburgh Foundation".
 Purchase tickets to the 2 pm or 8 pm performance visit: You Wouldn't Expect: Performances!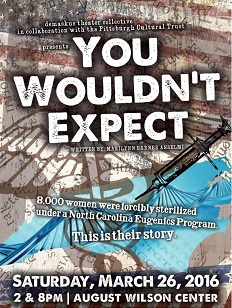 WHEN
March 26, 2016 at 5:30pm - 8pm
CONTACT
demaskus Theater Collective · · 412.456.6666
44 RSVPS



See who else is RSVPing:
Samantha Bennett
Eric Mubarik Webb I
Tracy Stotts Edmunds
Brandi Fisher
Stacie Allen
Tara Marie
Julia Willis
Raven Jones
Aja Rae
Pariss Johnson
Barb Foy
Julie Malice
Sharon Watkins
Deanna Wilkerson

Denise Jackson
Delana Flowers
Charles E Timbers Jr
Heather Scarlett Arnet
Janice Miles
Danielle Howard

Chrystal Alexander
LaTasha Mayes

Marita Garrett
Sheldon Cotten
Richard Gartner
Patricia Divine
Ag Renee
Marilynn Anselmi
Paula Simon
Blayre Holmes