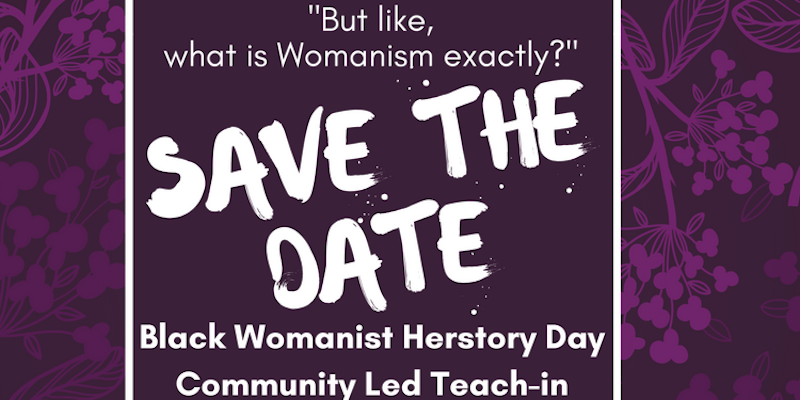 FREE to the public. This community teach-in will elevate the intersectional principals of Black Womanism.
Join New Voices Philly on Saturday, February 25th at this exciting community event, Womanist Working Collective's Community Led Teach-in for our #ReproJustice workshop between 1-2P at the Rotunda, 4014 Walnut Street, Philadelphia, PA 19104.
*To volunteer or join our group of #WOC #ReproJustice delegates in solidarity at this event, please email Katherine Mejia at katherine@newvoicespittsburgh.org
Notes from our community partner:
This all-day event aims to give participants the opportunity to learn about the concept of accessing Black Liberation through Womanist Principles. This daylong event will be broken up into several smaller workshops facilitated by community leaders and organizers covering topics such as: Black Cooperative Economics, Gender & Sexuality, Health & Wellness, Community Organizing, Reproductive Justice and so much more.

This event free and accessible to participants, however it is encouraged to tip your workshop facilitators if possible. There may also be vendors and food for purchase that you may want to check out.

The intended audience of this event are members of the African-Diasporic Community. This is who the workshops are gear towards and who we expect to get the most out of this event.

This space is wheelchair accessible and has a spacious restroom on the premises. If you have questions about additional accommodation requests, please contact the Womanist Collective Working Group at (267)606-0992.

NOTE: This is an intentional safe space and any sexism/misogynoir, homophobia, transphobia, ableism, anti-blackness, classism, elitism, xenophobia or any other lateral oppression/intra-community violence that is perpetuated by our own people will not be tolerated. You will be asked to leave.

 
WHEN
February 25, 2017 at 1:00pm - 2pm
CONTACT
Katherine Mejia · · (267) 365-7120
56 RSVPS
See who else is RSVPing:
Iresha Picot-Wagner
Gina Renzi
Tiffany Sumner
Stelly Esuah
Sonja
Jessica Rosenberg
Reggie Jones
Takia McClendon
Tracey Coretta
Shanna Forde
Handberry Melonie
Kamekə Brown
Lexi White
Jennifer Pollitt
Naweh Elvie
Salem Collo-Julin
Jackie Bannon
Dara Cooper
Tom Ficklin
Alicia Elizabeth Dorsey
Kyndall Clark
Alexis J Walker
Kathryn Linder
Kiera Smalls
Lauren Dunn
Annalise Levine
Trinz Dominique Massiah
Jules Purnell
Teka Lark